Copyright © 2016 Le V. All Rights Reserved.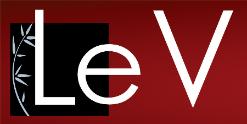 FUSION CUISINE
Blend of European and Asian
Flavors and Spices

News:

Los Angeles Times, "In Little Saigon, a
revitalized dining scene" article, Jan
2008


"Le V, boasts a wall of wines that bisects
its bistro-Moderne dining room."

"People's expectations are different
now," says Cecilia Le, a former financial
analyst who owns 6-month-old Le V
Cuisine. Her customers tend to be
business professionals who enjoy
wines with her menu of Vietnamese and
fusion dishes and shareable small
plates such as small spring lamb chops
arranged on blue cheese-spiked potato
"fondue" or salmon carpaccio sprinkled
with crispy capers and chives. They're
not averse to culinary experimentation,
Le says.


Le V Cuisine.
Smart, spare décor with a
touch of red silk and an impressive
Lucite wall of wines set the tone for a
change-of-pace menu that offers
inventive and traditional plates, large
and small. Recommended dishes:
banana flower salad with baby clams in
lemon dressing served with crispy rice
cracker; salmon carpaccio with crispy
capers; baby lamb chops appetizer with
blue cheese-potato fondue; orange duck
fried rice; shaken filet mignon (bo luc
lac) with tomato-rice salad. 17431
Brookhurst St., Fountain Valley, (714)
593-8511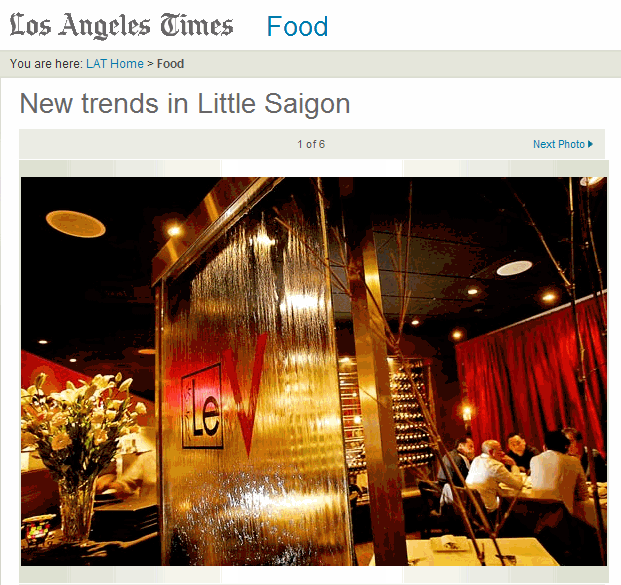 My menu :